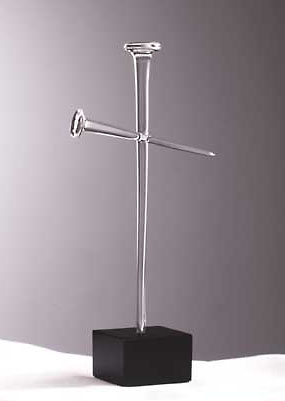 Sculpture by © Fräbel Studio artist Klaus-Dieter Widmann
http://www.frabel.com/
Photo courtesy of © The Fräbel Gallery, Inc., 2002.
Cross of Nails
Handcrafted entirely of boron glass rods.
Symbol of reconciliation. In the rubble of the bombed Coventry Cathedral, two spikes were fused together. When German Christians joined British Christians after WWII to repair the building, the Community of the Cross of Nails was formed and symbolized by this cross.
---
Sculpture Gallery Cross Art Gallery
Credits:
Cross of Nails, Sculpture by Fräbel Studio artist Klaus-Dieter Widmann. Photograph courtesy of © The Fräbel Gallery, Inc., 2002; used by permission of Philip Rudisill. Photo may not be reproduced without prior written permission of The Fräbel Gallery, Inc.

The Fräbel Studio and Gallery, Inc.
695 Antone Street, NW
Atlanta, GA 30318.
404-351-9794, 800-843-1450.
http://www.frabel.com/

Background pattern courtesy of ©