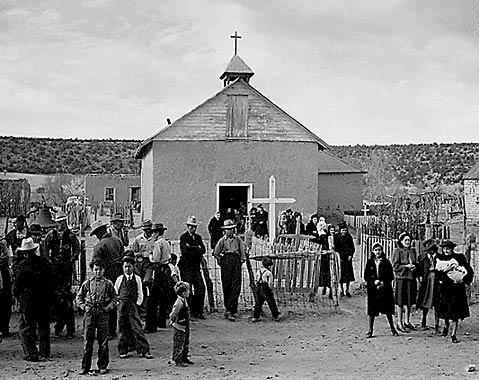 Photograph by Irving Rusinow
April 10, 1941-April 16, 1941
El Cerrito, San Miguel County, New Mexico. El Cerrito is of course a Catholic village, and the church has a strong effect on the attitudes, practices and everyday lives. The priest (who lives at another village and cannot hold Mass here every Sunday) is the spiritual leader and even the dictator of the community. Services are held even though the priest is not present, as was true on Good Friday when some of these pictures were taken. A local woman was in charge.

Photograph courtesy of the National Archives, Still Picture Branch
---
Photojournalism & Documentary Gallery Subject Gallery
Credits:
El Cerrito, San Miguel County, New Mexico - photo by Irving Rusinow. Courtesy of the National Archives, Still Picture Branch. Control Number NWDNS-83-G-37865. Coverage Dates, 4/10/1941-4/16/1941. Creating organization was the Department of Agriculture. Bureau of Agricultural Economics. The National Archives - http://www.nara.gov/

Background pattern courtesy of the ©