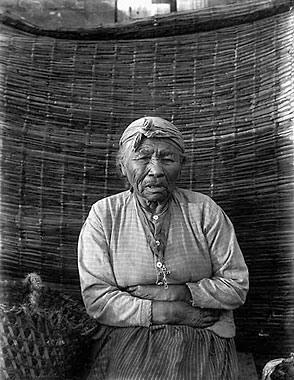 Photograph by Anders B. Wilse
Puget Sound Salish woman: General Taylor's wife, ca. 1900.
This woman, identified only as "General Taylor's wife," had her portrait taken with a traditional clam basket in front of a handmade cattail mat. She wears a crucifix pendant, a symbol of the Christian faith introduced by missionaries in the mid-1800's.
Photograph courtesy of the Museum of History and Industry, Seattle.
Photo located from the Library of Congress web site.
---
Photojournalism & Documentary Photo Gallery Subject Gallery
Credits:
General Taylor's wife, ca. 1900 - Photograph by Anders B. Wilse. Courtesy of the Museum of History and Industry, Seattle. Photo located from the Library of Congress web site. Reproduction Number MOHAI 88.33.289. From the American Indians of the Pacific Northwest Collection; Wilse Collection.
Museum of History and Industry, Seattle - http://www.seattlehistory.org/Collections.html
The Library of Congress - http://www.loc.gov/

Background pattern courtesy of the ©