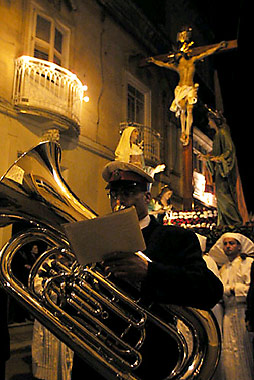 Photograph by © Darrin Zammit Lupi 2001
http://www.darrinzammitlupi.com/
A musician of the St George's Band Club plays in a funeral march in front of a statue of the Crucifixion during a Good Friday procession in the town of Qormi on April 13, 2001. All over the Maltese Islands, processions are held with lifesize statues depicting various episodes in Christ's Passion carried shoulder-high. Several participants dress in Biblical costumes, while others wear hoods to conceal their identity while walking barefoot with chains tied to their feet or carrying crosses as a sign of penance.
Malta - 2001.
---
Photojournalism & Documentary Gallery 3 Gallery 2 Subject Gallery
Credits:
Good Friday, funeral march - photograph by © Darrin Zammit Lupi 2001. Used by permission of Darrin Zammit Lupi; photo may not be downloaded or reproduced in any manner without written permission of the photographer.

Darrin Zammit Lupi - Photojournalism and Performing Arts Photography
http://www.darrinzammitlupi.com/

Background pattern courtesy of the ©