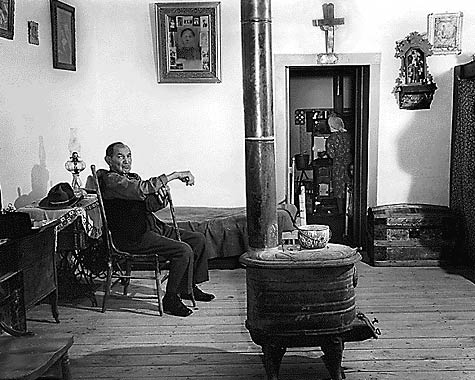 Photograph by Irving Rusinow
April 10, 1941-April 16, 1941
El Cerrito, San Miguel County, New Mexico. Rooms in all these houses differ considerably as to furniture, arrangement and shape, but almost all of them are surprisingly clean and well kept. The influence of the church on the lives of these people is very strongly reflected in the decorating to be seen on the walls of their homes. Notice that nearly every one of these pictures shows some sort of religious symbol. This man is descended from one of the oldest families in the village. And his house is also one of the oldest there. The furniture is extremely simple and only barely sufficient for the needs of this very large family. Notice, however, that it includes an old-fashioned sewing machine. There are even more than the usual number of religious pictures. In the left center . . . is a portrait of a relative. Under the edge of its frame are thrust a dozen or more snapshots of other relatives and friends.
Photograph courtesy of the National Archives, Still Picture Branch
---
Photojournalism & Documentary Gallery Subject Gallery
Credits:
El Cerrito, San Miguel County, New Mexico - photo by Irving Rusinow. Courtesy of the National Archives, Still Picture Branch. Control Number NWDNS-83-G-37828. Coverage Dates, 4/10/1941-4/16/1941.
The National Archives - http://www.nara.gov/

Background pattern courtesy of the ©