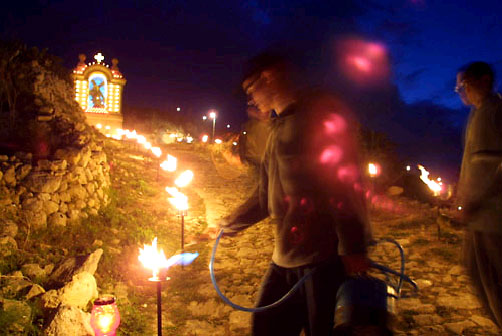 Photograph by © Darrin Zammit Lupi 2001
http://www.darrinzammitlupi.com/
An unidentified man lights a flaming torch along the path leading up the hill towards Laferla's Cross in Siggiewi in central Malta during an annual pilgrimage on April 12, 2001. Thousands of people on the staunchly Catholic island flock to the hill every Maundy Thursday, praying and singing hymns.
Malta - 2001.
---
Photojournalism & Documentary Gallery 3 Gallery 2 Subject Gallery
Credits:
Laferla's Cross in Siggiewi in central Malta - photograph by © Darrin Zammit Lupi 2001. Used by permission of Darrin Zammit Lupi; photo may not be downloaded or reproduced in any manner without written permission of the photographer.

Darrin Zammit Lupi - Photojournalism and Performing Arts Photography
http://www.darrinzammitlupi.com/

Background pattern courtesy of the ©