The Cross - a photographic research project.
Mural painting by Johanna Poethig,
Cross "graffiti" by unknown artist.

Photographs by Eric Shindelbower
http://www.thecross-photo.com/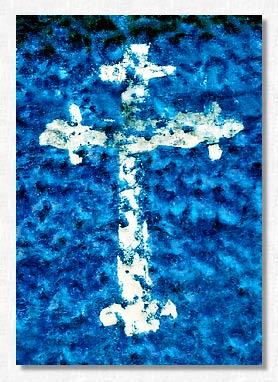 This Cross "graffiti" is located at the bottom right of a mural painted by Johanna Poethig on The Episcopal Sanctuary building in San Francisco, California. As is the case with exterior murals they are sometimes added to by other artists.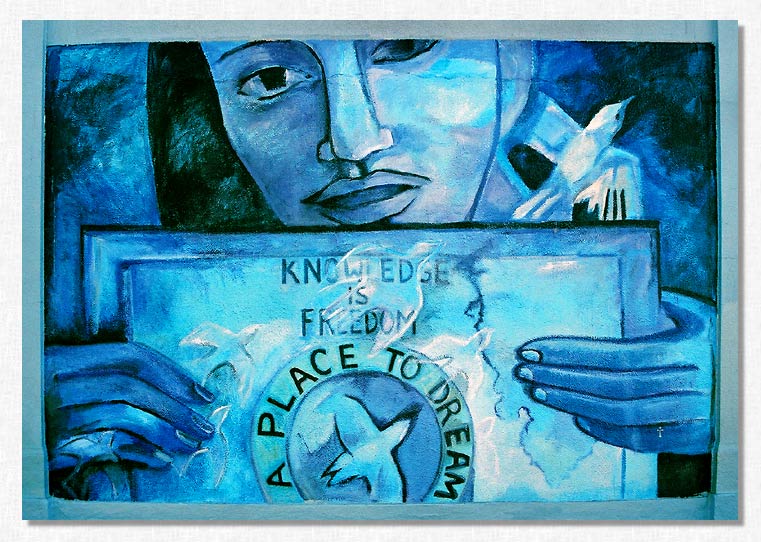 Mural painting by © Johanna Poethig
A graffiti artist added the little cross on the left pinkie of the girls hand.
The Episcopal Sanctuary - San Francisco, CA.
- Click here to view The Episcopal Sanctuary -
---
Subject Gallery 2 Subject Gallery Home
Credits:
Manipulated photographs by Eric Shindelbower. Mural painting by © Johanna Poethig. All Rights Reserved. Photographs may not be reproduced without prior written permission of the artist.

Johanna Poethig,
Professor of Painting and Largescale Public Art,
Visual and Public Art Institute,
California University, Monterey Bay.

Biography,
http://www.sla.purdue.edu/WAAW/Cohn/Artists/Poethigbio.html

This mural is located on The Episcopal Sanctuary building.
Episcopal Community Services--Sanctuary
201 8th Street, San Francisco 94103 (At Howard Street)
Daily 4:00pm - 8:00am

Background pattern courtesy of ©