"The Gift"
Sculpture by Robert C. Haifley
Photographs courtesy of Copyright © 2002 Art-Bazaar
http://www.art-bazaar.com/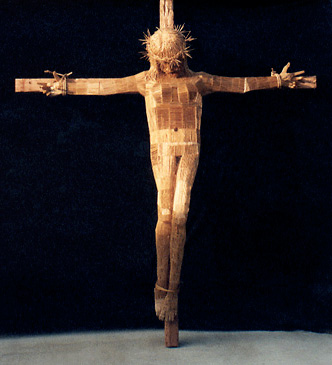 Mr. Haifley's first "toothpick" sculpture. The Christ sculpture which he named "The Gift" is 6'-0" tall (life size), and contains over 75,000 toothpicks. Working just a few hours a day, Mr. Haifley completed "The Gift" in approximately 5 years. Once completed, he overlaid the entire sculpture with 8-9 coats of marine resin which gives it tremendous strength and durability, as well as a beautiful golden amber look.
In 1991, Mr. Haifley sold "The Gift" to an art collector in California.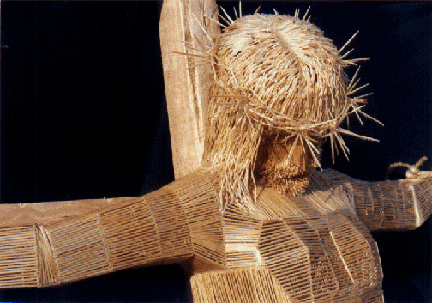 ---
Sculpture Gallery Cross Art Gallery
Credits:
"The Gift" - toothpick sculpture by Robert C. Haifley. Photographs courtesy of Copyright © 2002 Art-Bazaar - All Rights Reserved; used by permission of Robert C. Haifley. Photos may not be reproduced without written permission of the sculptor.

"The Gift" - text courtesy of Copyright ©Art-Bazaar.com. Used by permission of John Taylor; text may not be reproduced without written pemission.

Thanks goes to John Taylor, Proprietor of Art-Bazaar.com, for his assistance in the creation of this web page.

Art-BAZAAR
An Internet Art Gallery
P.O. Box 640 - Edgerton, Ohio 43517
http://www.art-bazaar.com/

Background pattern courtesy of ©