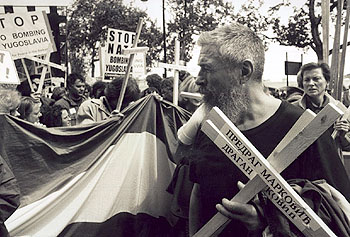 Photograph by © 2000 Brian David Stevens
http://www.briandavidstevens.com/
London March-May 1999
- from the picture essay, "The Serbs"
This photo was taken in London during the NATO action in Kossovo, where British Serbs protested outside of Downing Street 24 hours a day for the duration of the bombing. Initially the atmosphere was very intimidating, but after a few weeks I was accepted and made many friends. Many of the protesters were my age and we would chat about music and football, conversations that would be interrupted by mobile phone calls back to Serbia to check if loved ones were still alive. Within one week of the bombing starting, one protester lost three members of his family.
---
Photojournalism & Documentary Gallery 3 Gallery 2 Subject Gallery
Credits:
Photograph from the picture essay, "The Serbs" - by © 2000 Brian David Stevens. Used by permission of Brian Stevens; photo may not be reproduced without written permission of the photographer.

Photo cut line written by Brian David Stevens; used by permission.

Brian David Stevens - Photojournalist
http://www.briandavidstevens.com/

Background pattern courtesy of the ©