The Whip, Hammer & CROSS
Crucifixion Scenes - CALVARY ASSEMBLY
http://www.calvaryassembly.org/
The Whip, Hammer and Cross is a presentation that depicts the last week of Christ life, death, and resurrection. The cast and crew is made up of volunteers from the church family of Calvary Assembly of God in Decatur, Alabama. This presentation contains a cast of hundreds in authentic costumes with lavish sets, live animals, chariot, living waters and special effects depicting: Triumphal Entry of Jesus, Pilate's Judgment Hall, Crucifixion Scene, Christ's Resurrection and The Ascension of Christ.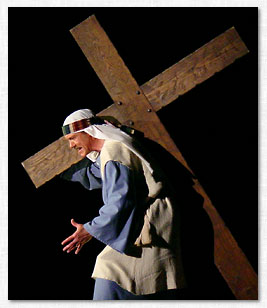 George H. Sawyer, Senior Pastor at Calvary Assembly, is pictured describing the Passion of The CROSS through the eyes of Barabbas, the narrator of The Whip, Hammer & CROSS.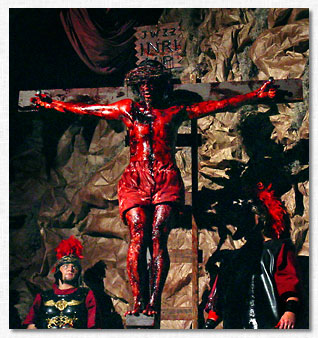 The Empty CROSS.
---
Church Cross Gallery Subject Gallery Subject Gallery 2
Credits:
The Whip, Hammer & CROSS information courtesy of the program booklet published and compiled as a fundraiser for Junior Bible Quiz.

The W, H & CROSS photographs by Eric Shindelbower; taken at the Wednesday, April 9, 2003 performance. Photos may not be reproduced without written permission.

Calvary Assembly of God
1413 Glenn Street SW
Decatur, Alabama 35603
(256) 355-7440
http://www.calvaryassembly.org/

Background pattern courtesy of ©